Home
»
Budget
»
Defining Goals: Steps 1 & 2
»
Defining Goals: Steps 3 & 4
Defining Goals: Steps 3 & 4
Step 3: Plan it Out
Start with the basics
Start with your

A

column on a new page.

Draw three columns and label them

What

,

When

and

How Much

.

Write down the most important goal from column

A

in the first column, when this goal should happen by in the second column, and how much it will cost in the third column.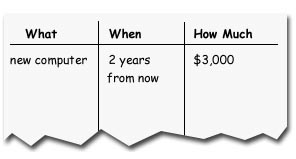 Add more detail
Next, break this goal down into smaller goals, the time line into smaller chunks of time and the cost into payments.

Not all goals need to be broken down or cost anything to achieve.

Just fill out this planning sheet in as much detail as you can. It helps make the goals seem more obtainable if you can take them on in smaller bites.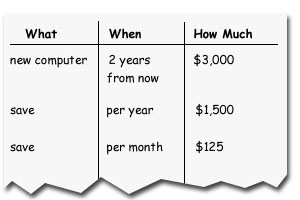 Repeat for all Goals
Repeat Step 3 for every goal on your list, from

A

through

C

.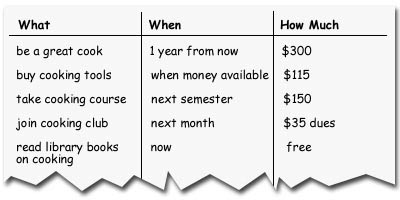 Step 4: Go!
Get your budget or budget worksheet out and see if the funds you have left over can be applied to any of your goals. Even if you can financially cover just a few of your goals, that's a great place to start.
If it looks like you'll have a hard time squeezing in any of your goals into your budget, don't worry. Look for any wiggle room in your budget for some extra money, or maybe get a part-time job to help make your dreams happen. It'll be worth it!