Home
»
Budget
»
Defining Goals: Steps 1 & 2
Defining Goals: Steps 1 & 2
If asked, most of us would say we have goals in life. But have you ever put them down in writing with a potential time frame of when they should happen? You're not alone. With your whole life ahead of you, now is the time to figure out what those goals are and put a plan into action.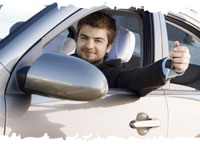 Here are the 4 steps to defining your goals:
Step 1: Brainstorm
Get out a sheet of paper or your computer and start writing down everything you've always wanted to do or have in life. The possibilities are endless. Stumped? We've given you some examples to start with:
What would you like to have?


A new computer, car, new home or easy retirement?


What would you like to do?


Raise a family, start your own business or give to charity?


Where would you like to go?


Study abroad, backpack through Europe or cruise the Bahamas?


What would you like to be?


A French chef, a doctor or your own boss?
Step 2: Prioritize
Review your list of goals, let them marinate for a few days and then revisit them. Edit or add where needed. Now it's time to sit down and prioritize them into columns A, B and C. Put the goal in column A if it's something you can't live without, B if it's something important but not absolutely necessary and C if it's something you'd like but could survive without.