Home
»
Spend
»
Online Shopping
Online Shopping
Shopping online. By now we've all done it. Unfortunately, most of us have shopped on an unsecure site from time to time as well. We're not saying you'll have to do without your online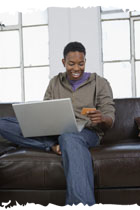 auctions or music downloads, we just want you to make sure you're shopping on a secure site.
Keeping it Safe:
On the Web
So, how do you know the site you're surfing is a secure one?
Check out the Web address. If it begins with

https://

instead of

http://

, then you're on a safe site. Secure sockets layer (SSL) technology is being used on that site to encrypt your information.

Most Web browsers now show a lock icon on the status bar on the bottom. If you're an Apple user, Safari has their lock icon on the top right.
Via Email
Never, ever email your credit card information, passwords, Social Security number, bank account numbers or other personal information to anyone. Even if your email provider is a secure one, there's no guarantee that the person or company on the other end has equally secure email.
Phone it In?
The above tips might make you think calling in your order is the safest way to go. Believe it or not, ordering online over a secure site is the safest way to go. If you need to order by phone, make sure you write down the following information:
Company name

Phone number

Date and time of call

Name and operator number of person you talk to

What you ordered

Item prices and order total, including taxes and fees

Confirmation or order number from company
Whichever way you shop, be sure to take good notes on your purchase, keep any emails from the company regarding your order and print out any of the communications in case you accidentally delete anything. To learn more about shopping safely online, visit SafeShopping.org.