Home
»
Earn
»
Getting an Offer
Getting an Offer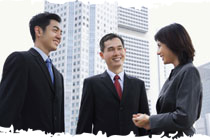 So far, so good. You put together a killer cover letter and resume, aced the interview and now they've offered you the job. With it being such a tough economy and tight job market, you jump at the first offer they give you, right? Wrong. Unless you need this job to financially survive another day, you might want to stop and evaluate the good and the bad of the offer.
The Perfect Fit?
Time to sit back and look at the job as a whole and ask yourself these questions:
Does it use your skills, education and background?
Does the actual work seem interesting and appealing enough to do for several years?
Is there room to grow in your department or company?
How do their health insurance, life insurance and other benefits add to the offer?
Determine if there's travel involved, and if so—how much?
Location and environment—is the job close enough to home and would you feel comfortable in their work space?
Adding it Up
Perks and benefits aren't the only thing to consider when seeing how a job offer measures up. Here are a few more questions to answer before saying yes:
Do the math—does this salary fit into your budget?
Are there bonuses, commissions or stock options that help add to the bottom line?
Does the company offer education reimbursement, a gym membership, company car or mileage?
Do they offer a 401(k) with matching contributions, a pension or other savings plan?
If you're planning on starting a family soon—what are their maternity/paternity leave policies or adoption benefits?
Give each perk or benefit a dollar value and add that to your proposed salary. Weigh that amount against what all those items would cost you on your own. The numbers you end up with will give you a real-world view of the job offer and help you in your decision.
The Bottom Line
After you've taken a good hard look at the financial and intangible aspects of the job, you should have a clearer idea if this is close enough to your dream job to accept the offer, renegotiate the terms or start fishing again for the next opportunity.