Home
»
Spend
»
Digging Out of Debt
Digging Out of Debt
Sometimes, despite your best intentions, your debt can snowball out of control. You barely make even the minimum payments every month thanks to an ill-advised shopping spree or family emergency. So, when is it time to panic?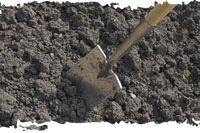 Debt Warning Signs:
You're late with bill payments.

You're having to juggle your bills, paying some one month but not the others.

Bill collectors won't stop calling you.

You spend more than you earn.

You're at or near your credit limit.

You've got a major credit card balance, paying only minimum payments.

You're putting off important things like doctor visits because you can't afford them.

You've been bouncing checks.

You can't afford your car payment.

You're thinking about moving because you can't afford your rent or mortgage.

You have no savings, or have spent it already.

You can't even keep track of who you owe or how much you owe them.
What Now?
If you're living any of the above warning signs, there are things you can do to help yourself and your battered credit:
Get a pulse.

List all of the people and companies you owe and how much you owe them. Also write down what you're paying in interest on each one. Add up the monthly payments.


Can't do it?

If, after adding up the totals, you realize that you can't make all of your minimum payments this month – it's time to call your creditors. Let them know that you either can't make your payment or that you'll be paying less than the minimum. They'll be much more inclined to help if you contact them first.


Collectors calling?

As appealing as it is, you can't ignore their phone calls. Answer the phone, stay calm, and truthfully tell them what's going on. Work out a payment arrangement if possible.


Figure out a payoff plan.

Take your list from Step 1 and determine the best way to start paying it all off. Use our payoff calculator to help.


Ask for help.

If you've reviewed all your debts and you realized that you're buried, contact the National Foundation for Credit Counseling to find a credit counseling center near you. A good counselor can help you find the solution for your unique situation.


Work hard to rebuild your credit.

While you're paying off your debt, start rebuilding your credit—one step at a time. Your credit counselor can help point you in the right direction.