Home
»
Save
»
Checking
Checking
Pretty much everyone has a checking account (sometimes called a share draft account at your credit union). Thanks to the conveniences of direct deposit, ATM cards, debit cards and checks, it's the easiest way out there to access your money.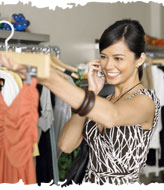 Here are some things to consider before opening a checking account:
What type of checking?

You need to have a good idea of your minimum balance and how you'll be accessing your funds. Most places offer free checking, but there's usually a minimum balance required. Do your homework.


What are the fees?

Typical checking accounts come with maintenance fees, ATM fees and, if you're not careful, overdraft fees. Know what you're getting yourself into beforehand.


Access to your account?

Does your credit union or bank have a large network of ATMs? Does it offer online or telephone banking?


Am I protected?

Your money should be federally insured. At a credit union, look for the National Credit Union Share Insurance Fund (NCUSIF).
Just be sure to read all the account information and rules before you open your checking account so you won't have any unpleasant surprises waiting for you.
Covering your Assets
If you're like most people these days, you probably live paycheck to paycheck at times making your accounts a juggling act. Give yourself a cushion from the start and add overdraft protection to your checking account.
Overdraft protection is where you link your checking to a savings account. So, if you happen to spend more than what's in your checking account, they'll automatically move money over from your savings to cover it. While each overdraft transaction usually comes with a fee, it's a much smaller one than if you'd bounced a check or became overdrawn on your account.