Home
»
Borrow
»
Buying a Car
»
Buying a Used Car
Buying a Used Car
We commend you for being practical about your car buying decision and going with a used one. Whether you're buying a new or used car, you have to do your homework to make sure you're buying one that's reliable, affordable and suits your lifestyle. Just follow the What, Where, How and Who of used car buying and you'll end up happy behind the wheel of your new (to you) car!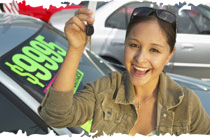 What
Stop and think about what you need from a car, before you think about what you want. Are you on the road a lot? Think gas economy. Have kids in your life or are planning to soon? A sedan, wagon, crossover, van or SUV may be in your future. Your car buying decisions shouldn't just be about the sound system, engine size or paint color.
Once you've narrowed down what kind of vehicle you should get, take a look at the stats and reviews of each model that fits within your guidelines. Try to narrow it down to the 2-3 vehicles that best suit your needs, your budget and have a history of reliability. Take a look at our related links on the right for some good sites that can help you do your homework.
Where
Got your top choices? Before you hit the lots, do your research online. There are plenty of dealer sites out there that let you shop their inventory on the Web. Like most things, if the price is way below what it should be, it's too good to be true. There's probably something wrong with the car that the listing doesn't mention or the photograph doesn't show.
The Internet also has dozens of sites that let you shop the inventory of many dealers at once by location. Some of these sites even include private owners looking to sell their personal cars. Online auction sites like eBay sell cars these days as well. And don't forget the classifieds in your local newspapers, either in print or online, they can be a valuable resource for used cars.
Stop (and Finance)
Found a few cars worth visiting? Stop right there. This is the time to secure financing. Your credit union should be your first stop. Credit unions historically have the lowest interest rates in town and have money to lend their members. When you get pre-approved for a loan before you go shopping, you're in a much better position when it comes to negotiating price.
If you're still not 100% sure how much car you can afford, our loan calculator can give you the answer.
How
It's easy to get distracted when you get behind the wheel of your potential new car and forget to look for its flaws. Here are some things to look for:
Double check the mileage on the vehicle. The higher the mileage the more wear on the car. Make sure that the price accurately reflects the mileage.

Is the car well cared for? Is there rust? How does the interior look? If the previous owner hasn't taken care of the inside of the car, chances are they didn't take care of the rest.

If you're good with cars, pop the hood and take a look. If you're not, bring someone with you who is. Check the oil, belt wear, fluid levels and overall condition of the engine.

Carefully inspect every inch of the exterior of the car and look for damage, dings and dents. Look closely at the paint job. If the paint doesn't match somewhere, chances are it's been in an accident and had some bodywork done.

Test the lights, windows, horn, seats, wipers, radio, heater and air conditioner.

Take it for a test drive—not just gingerly around the block, but drive like you drive your own car. Test the brakes, shifting, acceleration and alignment.
Who
Found your dream car? Or the it'll-do-for-now car? Time to negotiate. And you've already done your homework on price, so you should be a force to be reckoned with! The more you know going into negotiations, the closer you should get to your desired price. This is also where being pre-approved for your financing will come in handy. Nobody wants to let a qualified buyer walk away from a deal.
If you're buying from a private owner, keep in mind that they might take the negotiating process personally, so tread lightly at first. On the plus side, the price should be lower than with a dealer.
If you're buying from a dealer, there is usually a bit more wiggle room on price thanks to their markups. Go with a top price in mind, start low and work from there. Don't worry about being nice, this is business.