Home
»
Borrow
»
Buying a Home
Buying a Home
Tired of throwing your money away on rent? Or are you looking to making a solid investment and planting your roots at the same time? Then the next logical move is to take the grown-up step of buying a home.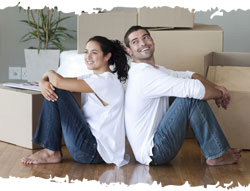 We know the idea of spending six figures on something can be intimidating. So, we're here to help break the process down into bite-sized pieces to make it all friendlier and more obtainable.
Your first stop should be to get an idea of how much house you can afford. To get a ballpark idea, we have these calculators to help:
Note: Both calculators include the option to display an amortization schedule; this breaks a possible loan down into payments, showing how much interest and how much equity will be in each installment.

Buying a house is a complex process with many stages. We've narrowed down the process down to these steps: