Holiday Gift Giving Tips
Holiday gift-giving can be lots of fun, but it can also be overwhelming. If you're working with a tight budget or just determined to buy the perfect gift, consider these tips to help make the experience as easy as possible: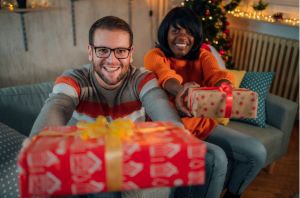 Be mindful of your recipient: As a young adult, you may have friends, family members, and colleagues that range widely in age, so it's important to think about their specific needs and interests. For example, if they're starting a new job, consider practical items like office supplies or professional attire. If they're living on their own, think about home essentials or kitchen gadgets.
Pay attention to hobbies and interests: Think about what your gift recipients enjoy doing in their free time and try to align their gift with their interests. It could be a new book by their favorite author, equipment for their favorite sport, or art supplies for their creative endeavors.
Consider experiences: Instead of a physical gift, consider gifting an experience that they'll remember. This could be concert tickets, a weekend getaway, a cooking class, or a spa day. Experiences provide lasting memories and can be more meaningful than material possessions.
Gift cards: If you're unsure of their specific preferences, a gift card is always a safe choice. Choose a gift card to their favorite store, restaurant, or online retailer. Alternatively, you can opt for a more general gift card, like an Amazon or Visa gift card, which gives them the freedom to choose what they want.
Ask for ideas: If you're still unsure about the perfect gift, don't hesitate to ask them directly or consult with their close friends or family members. They might have some insights or suggestions that can help you make a thoughtful choice.