Find It for Free
College is expensive, but you can find a lot of stuff for free if you look in the right places.
College is expensive. Saving money where you can is essential. Getting things for free is the best way to save money. Furniture, food, software, and housing can all be found for free if you look for them. Here're a few tips and tricks to help you find free deals at school and help keep a little extra money in your savings account.
Dumpster dive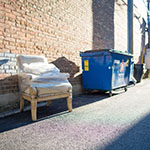 At the end of the semester, most schools will put dumpsters outside the dorms for students to empty out any trash they've accumulated over the year. It's not hard to find a couch that is in good condition just sitting on top. A lot of furniture ends up in the dumpsters—people buy it, get it to their dorm, and then don't have anywhere to store it or get it home at the end of the semester.
It's not unheard of to find perfectly good TV or computers in there either. Some people just don't have a concept of what money is so they just dump them. Even if you don't need those things, they have value; you can sell them for cash.
Online marketplaces
People are always trying to get rid of stuff. What one person sees value in another sees as trash. Online marketplaces are full of people giving things away just to make room; furniture, appliances, clothes, and electronics can be found for cheap. You might not find a free computer, but speakers or old amps that still work are not hard to come by.
These are also great places to find workout equipment. It won't be great, but a set of dumbbells or a kettlebell is a great way to hold yourself over when you can't make it to the school gym.
Also, it's a great place to find weird gifts for friends (especially for gift-giving games like White Elephant). Who doesn't want to give their friend an old truck tire for their birthday?
On-campus
College campuses are full of free things and services for students. Gym – free. Library – free. Medical clinic – probably free. Mental health – probably free. Tutoring – probably free. A lot of schools offer free or discount software on campus.
One thing not a lot of people take advantage of is recreational equipment. Many schools have free or extremely cheap rentals on recreation equipment from kayaks to backpacking packs. So if you're planning a weekend adventure, check your school's website and see what they have to offer. Some recreation departments also offer guided hikes and tours.
Online
There are a lot of free – and legal – options for software, tutoring, learning, and textbooks.
Places to look:
Free Software Foundation

Open Textbook Library – run by the University of Minnesota

Khan Academy
There are plenty of other options; simply search and you'll find something that fits your needs. Remember to keep it legal. And double-check to make sure it is a trusted source. There are a lot of shady options out there too, so do your research and find a source that isn't going to crash your computer with viruses.
Email
If you're writing a research paper and don't have access to a peer-reviewed article that you know would help your argument, try emailing the authors.
The companies that publish peer-reviewed journals often don't pay the authors of those papers. There is little to be lost other than a few moments for the original author to simply email their paper.
Reaching out and asking is often a good way to get something. Having a fundraiser? Email a few local businesses; more than likely they will help you out. Even if you're just looking for yourself, reach out and see what you can find. It's often called the "Good Guy" discount: you're a good guy, they're a good guy, they hook you up.
There you have it: you can find a lot of stuff for free in college if you take a little bit of time to look. And ultimately you'll save time not having to work the extra hours to afford it at full price.